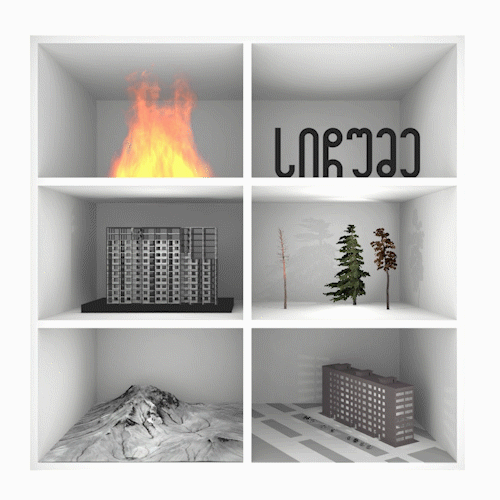 I Pity the Garden by Tbilisi-based artist duo Mariam Natroshvili and Detu Jincharadze is an immersive artwork about the premonition of the end. Through large-scale video installation and VR experience, the viewer is led into a realm of magical realism within the Anthropocene Epoch. 
For Natroshvili and Jincharadze, artists born a few years before the collapse of the Soviet Union, the feeling of the end has always been integral to their experience of everyday life and has existed as a cornerstone of their collective memory. Living within the volatile environment of the Global South means to exist with the constant anticipation of various kinds of endings. This end does not necessarily mean disappearance; it can also embrace the beginning of something different in itself. However, the drama of how events unfold too often resembles a dystopian reality or a horrific fairytale where the metaphorical garden dries out, dies, is set ablaze, and is ultimately rendered empty. 
I Pity the Garden takes the viewer into an immersive environment modeled by the mythopoetic forms of the artist's narrative. It's an observation on the signs marking the end: a horizon on fire, an abandoned city, a barking dog chained to a wall made of words, a vacant office cracking, a place where supermarket shelves are taken over by a horde of insects. The central scene of the VR experience is a garden of extinct plants – The Ghosts Garden. This ecological crisis, in real life and represented here in VR, is one of the signs of the end. This virtual garden unites plants that have become extinct as a result of human intervention.  
The work presents non-linear storytelling of the Anthropocene era garden. The VR Experience is interactive, while the self-generating visual sequence of the video projection is not predefined – the quaked earth has detached from objective reality, it is shaken by human deeds, a puzzle composed of images of real places and fragmented environments. The setting is similar to an abandoned video game where no human is visible. Only traces, irreversible mistakes, and wounds in the earth can be seen. It is a poetic work that employs the technological age's language of the new surrealism to speak about the end and the beginning.
Georgian National pavilion at the 59th International Art Exhibition – La Biennale di Venezia
Commissioner: Magda Guruli
Curators: Giorgi Spanderashvili, Khatia Tchokhonelidze, Vato Urushadze
Organization: In-between Conditions
Local Partner: Nuova Icona
Active Partner: Spazio Punch
Exhibitors: Mariam Natroshvili and Detu Jincharadze 
Sound Designer / Composer: Davit Khorbaladze
CTO : Alex Lashkhi, StormBringer Studios OÜ
Exhibition Design: Luka Murovec, raumlaborberlin
Graphic design: Elene Gabrichidze
Project manager: Tamara Topuridze
With the general support of The Ministry of Culture, Sports, and Youth of Georgia
.